Steve Poling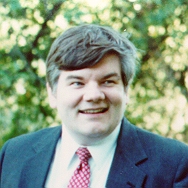 This is a portrait of the author as a young man. At least as young as he is now. I hope to use will use this venue for communicating with my adoring public. Yeah right. You want to send me mail?

is my address. Feel free, I don't bite. I just nibble a bit. Oh, iff you're a spammer, click the link, don't type it in manually. Thanks.
---
What's In this Home Page?
My interests tend to be ecclectic
Here are some stories you might like
I am not afraid to be opinionated, here are some of my rants
Here's a brief historical bio summarizing my background
The Refridgerator Door is where I keep my family's artwork
My resume may be of interest to you.
---
Computer Hardware
PC Clones mostly
Most of the time, I've got a machine in my basement in a partial state of disassembly. Right now, I'm toying with the notion of putting together yet another machine with the sole purpose of running Linux on it. Most of my machines are packed full of all the junk I can cram into their empty slots. I put together a network just so I could attach more peripherals.
Commodore Amiga A1000
The 2nd Amiga purchased in Grand Rapids, MI now sits on an unused computer desk with backup tapes piled in front of it. Alas.
Heath Zenith H89, a Z-80 CP/M
it now sits beneath my ping-pong table beneath a dust cover. Sigh.
Computer Software
The C & C++ Programming Languages
I'm a poet in C/C++. Few things please me as well as a piece of well hacked code. I teach C/C++ whenever I can talk a local college into allowing me.
The Perl Programming Language
This is a marvelous language that has only one flaw. If you're not careful, you'll generate write-only code.
The Java & JavaScript Programming Languages
I've been threatening to write something in Java and I have built a few toys. Nothing worth sharing here. My first JavaScript program is at DateTest.htm. That was a nice proof-of-concept, but I spent a lazy Saturday evening making it a lot more useful. So, here's my second JavaScript program at dt3.htm. The first uses no frames, the second uses frames. If you point your browser at this link and read whatever appears on a regular basis, you'll be richly rewarded.
The Rexx Programming Language
I learned Rexx when it was the el primo way of making two Amiga applications talk together in a cooperative client-server kinda way. The ONLY reason I'd ever be tempted to run OS/2 is so that I could do Rexx again. I figure Rexx is the language that Basic should have been.
Computerized Maps
The US Census folks have made maps of the entire United States. This data kept in this thing called the Tiger database. You can get the CDs from the government directly. But lots of companies slightly modify the data and sell it to you with their expensive mapping program.
Embedded Systems
I've built and I like to build completely self-contained computer systems that make some bigger gizmo work. The in-vehicle system that I worked on for AVL consisted of a single-board computer, some sensors (including a GPS receiver), and an RS232 connection to a radio modem. Software for this venue must be designed according to different paradigm than your normal computer program. For one thing, there's no screen for error messages. So, if your software isn't perfect, how do you diagnose problems?
Speech Signals Processing
Suppose you're flying your F-16 at tree top level at several hundred miles per hour. And you figure the bad guys own the ground beneath you. And you figure those Miggies flying overhead aren't friendly. And you want to arm a gun or missile or something? What are you going to do? Take your hands off the controls, look down at a computer screen, and start typing and mousing? Nope, you want your hands on the controls, and your eyes out of the cockpit. You want to tell the airplane to do something. And you want to get an audio response. Its a pity that the technology hasn't been robust enuf for more prosaic applications like the family sedan. Anyway, there's some awesomely cool things you can do with speech signals processing which do not involve killing people or breaking things. Ferinstance, you can digitize your voice, compress it to fit into a 14.4kbps channel and then send it across the Internet. Like the folks at VocalTech do.
Image Processing
Image Processing is really Signals Processing in two dimensions. You can do all sorts of cool things to a picture with simple arithmetic. My favorite image improvement gimmick is a thing called a median filter. Other cool things to do in an image include photogrammetry. If you know the geometry of the camera and scene, you can measure the size of things from the number of pixels they consume. Spooks do this all the time to figure out how the Ruskies are violating nuke treaties. Disclaimer: the term "spook" does not refer to either melanin enhanced persons or life deficient persons, but to government intelligence professionals.
Neural Networks
Defense Systems
Airframes
Avionics
Future weapons
Future threats
Mathematics
Music
I like all forms of music except for Opera. And even then, there are exceptions. Rap is not music and is detested.
Money
I'm of the opinion that if more people understood how money works, there'd be a lot less whining in this world. And a lot of those whining now would not be cheated as often as they are nowadays.
Freedom from Debt
In high school, you'll learn about all kinds of useless stuff. But they don't teach you how compounded interest works. In fact, I got two masters' degrees and I had to figure out compounded interest on my own.

The bottom line is debt is bad, savings are good.
Efficient use
If you ever have a chance to get the Tightwad Gazette. I'm too cheap to subscribe, but I do own the books. I suppose you could borrow them at the library.

If you aren't on a budget, I'll waggle my finger at you. Here's a spreadsheet that might help. It is in Quattro format.
Investments
I am interested in joining/starting an investment club, in my copious free time...

These folks at the NAIC have some good stuff to help you learn investing.
Politics
The further to the right, the better. Hey, isn't that Genghis Kahn on the extreme left?
Science Fiction
Favorite authors include:
Neal Stephenson
Isaac Asimov
John Dalmas
Gordon Dickson
David Drake
James P. Hogan
Keith Laumer
Jerry Pournelle
E.E. "Doc" Smith
Harry Turtledove
A.E. Van Vogt And many more...
---
Philosophy & Religion
So, Steve, what do you REALLY believe? I believe the London Confession or if that site is slow, I've mirrored it here. (excepting sections 10:3 and section 26:4)

This program is a useful combination of JavaScript and the techniques I discovered while adding references to the confession above. This Bible reading program uses frames.

I also believe in having a little fun
---
Born 1955
Kent City High School 1973
Cedarville College BA Math 1978
Michigan State University MA Math 1980
Johns Hopkins University MS Computer Science 1983
Husband of Mary
Father of Jane & Dan
Landlord
---
---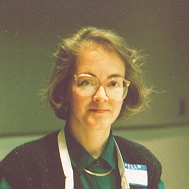 This is a picture of Mary, the Dessert Queen of Grand Rapids, MI. It is a testament to her superior moral character that she puts up with me. Mary is a graduate of Cornerstone college. Mary works at WOOD radio when somebody takes vacation or something. Otherwise, she's managing rental properties or working full time in our home. Raising Jane & Dan is a big deal. And keeping up with that big kid, Steve, is a real challenge.

You can read about Mary in the Bible. Here, let me show you.
---
Proverbs 31:10-31


 A wife of noble character who can find?
    She is worth far more than rubies.
  Her husband has full confidence in her
    and lacks nothing of value.
  She brings him good, not harm,
    all the days of her life.
  She selects wool and flax
    and works with eager hands.
  She is like the merchant ships,
    bringing her food from afar.
  She gets up while it is still dark;
    she provides food for her family
    and portions for her servant girls.
  She considers a field and buys it;
    out of her earnings she plants a vineyard.
  She sets about her work vigorously;
    her arms are strong for her tasks.
  She sees that her trading is profitable,
    and her lamp does not go out at night.
  In her hand she holds the distaff
    and grasps the spindle with her fingers.
  She opens her arms to the poor
    and extends her hands to the needy.
  When it snows, she has no fear for her household;
    for all of them are clothed in scarlet.
  She makes coverings for her bed;
    she is clothed in fine linen and purple.
  Her husband is respected at the city gate,
    where he takes his seat among the elders of the land.
  She makes linen garments and sells them,
    and supplies the merchants with sashes.
  She is clothed with strength and dignity;
    she can laugh at the days to come.
  She speaks with wisdom,
    and faithful instruction is on her tongue.
  She watches over the affairs of her household
    and does not eat the bread of idleness.
  Her children arise and call her blessed;
    her husband also, and he praises her:
  "Many women do noble things,
    but you surpass them all."
  Charm is deceptive, and beauty is fleeting;
    but a woman who fears the LORD is to be praised.
  Give her the reward she has earned,
    and let her works bring her praise at the city gate.

---
These kids will someday be running something important. Right now, they are doing something more important than that, they're learning. They are both good students in school. Both are manifesting good moral character. They are even be a good example to me. The photo here is of Jane, & Dan getting ready to get into a small plane last summer. The kid with his back turned is their friend Cameron.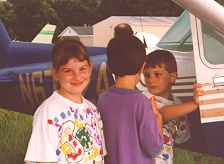 Jane, Cameron, Dan & an airplane
---